Sigma 20mm F1.4 DG HSM A Nikon
COMPARISON SELECTION (3 selected items max.)
VIEW COMPARISON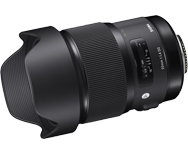 | | |
| --- | --- |
| Announced | Oct. 2015 |
| Indicative price (USD) | 900 |
| Aperture | f/ 1.4 |
| Focal range (mm) | 20 |
| Filter diameter (mm) | |
| Max diameter (mm) | 90.7 |
| Mount type | Nikon F FX |
| Stabilization | No |
| AF Motor | HSM |
| Zoom type | |
| Rotating front element | No |
| Tripod mount | No |
| Color | Black |
| Full-Time manual focus | |
| Number of lenses | 15 |
| Number of groups | 11 |
| Diaphragm blades | 9 |
| Circular aperture | Yes |
| Length (mm) | 129.8 |
| Weight (gr) | 950 |
Certain fields may be left blank. They will be updated as soon as possible.
Further readings for the Sigma 20mm F1.4 DG HSM A Nikon
To provide photographers with a broader perspective about mobiles, lenses and cameras, here are links to articles, reviews, and analyses of photographic equipment produced by DxOMark, renown websites, magazines or blogs.
---
Lens Recommendations
|
May 25
| | |
| --- | --- |
| | We've tested 149 lenses on the D5600, including primes and zooms, and in this first part of our "Best lenses for the Nikon D5600" review, we've picked a selection of the best affordable primes. The review analyzes the performance of our top three lenses in four categories, including wide-angle, standard, 50mm, and telephoto lenses. Before we get dive into the lenses, here's a quick overview of how we calculate the Lens Metrics, along with some key lens features to look for. |
---
Lens Recommendations
|
December 15, 2016
| | |
| --- | --- |
| | We've tested a total of 83 fixed focal length prime lenses on the D3400, including both FX-mount full-frame lenses, as well as the DX-mount optics that are specifically designed for use on the APS-C D3400. These lenses cover a vast range of focal lengths, from an ultra wide-angle 14mm for fitting lots into the frame, through to a super-telephoto 600mm focal length that offers a whopping 900mm equivalent on the D3400 (taking account of the Nikon 1.5x APS-C crop factor). |
---
Lens Recommendations
|
November 03, 2016
| | |
| --- | --- |
| | Nikon's latest flagship FX-mount, full-frame DSLR — the D5 — is a performance powerhouse, featuring a new 153-point autofocus system and 12 fps burst shooting of up to 200 14-bit RAW files. Designed for the traditional customer base of sports, press and wildlife pros demanding top performance, the D5's increased 20.8Mp resolution and enhanced low-light capabilities has further broadened the D5's appeal. As well as boasting enough pixels for advertising, magazine, and even landscape photography, the D5's image quality improvements at the mid-ISO 1600–12,800 range will interest a range of professionals looking for great results in low light. |