90

89

88

87

86

85

84

83

82

81

80

79

78

77

76

75

74

73

72

70

69

68

67

66

61

59

57

50
GoPro HERO3 Black Edition: Super Hero…
By Ben Boswell -
Thursday July 18 2013
Mobile Review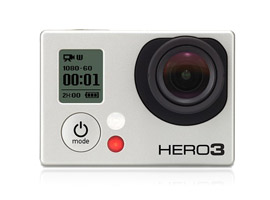 The photographic industry is split into many sectors, ranging from pure photography to social media (and thus from Pro SLR to smartphone). Some sectors are more "niche" than others. The GoPro HERO3 comes from one of these niche sectors: action cameras. Designed to record extreme sports, they are not like conventional cameras: the emphasis is on rugged build, simple interface, light weight, and predominantly video output. We at DxOMark were curious to test both the still and video quality of this unconventional camera. We were not disappointed: the GoPro HERO3 achieves the highest DxOMark Mobile video score.
Further readings for the GoPro HERO3 Black Edition: Super Hero…
To provide photographers with a broader perspective about mobiles, lenses and cameras, here are links to articles, reviews, and analyses of photographic equipment produced by DxOMark, renown websites, magazines or blogs.
---
Mobile Review
|
October 14, 2013
| | |
| --- | --- |
| | Sony's Xperia Z1 is the flagship model adopting a physically larger 1/2.3-inch type CMOS sensor with 20.7M pixel count. It also features a Sony G type lens promising high picture quality, but is it enough to compete with rivals such as the latest Apple iPhone 5S and the 41-Mpix Nokia Lumia 1020?  Read on to see how well it fares using our usual industry-standard tests. |
---
Comments
Added by

noirist

| August 12 , 2013

GoPro Hero3 Black Edition is flawed and so are your tests

I evaluated the GoPro Hero3 Black Edition and found some material deficiencies which were not addressed by your tests. The most severe deficiency is that it uses cropping and line skipping achieve the different video output modes. As a result of the cropping, each video mode, such as 4k vs 1080p, has a different field of view. As a result of the line skipping, the measured resolution of the GoPro footage is low. Even in 4k mode it does not provide even 1k lines of measured resolution. In 1080p mode I'd be surprised if the GoPro provided more than 480 lines of measured resolution. Your tests are flawed because that they do not point up this very obvious deficiency in the GoPro footage. Your write up is flawed because you do not say which modes you used to evaluate the GoPro, which means your tests cannot be reproduced by others. At the very least you should tell us which modes you used and you should report the measured resolution of the footage in those modes.


Reply | Read all replies for this comment
First replies for this comment
---
Re: GoPro Hero3 Black Edition is flawed and so are your tests

แหล่มมากเลยครับผม


Reply
---