Canon 400mm f/4.0 DO IS II USM lens review: Upgraded model punches above its weight
By Paul Carroll -
Thursday April 09 2015
Lens Review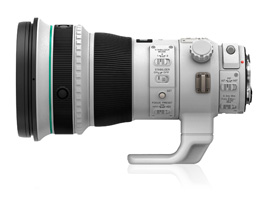 Canon has updated the original 400mm f4 DO lens using its new gapless diffractive optics construction, which promises high image quality. Read on to find out how well this new model performs.
Canon's original 400mm f4.0 DO IS USM super-telephoto was a hugely innovative model at the time of its introduction in late 2000. The use of DO, or diffractive optics — a pair of elements each with an opposing Fresnel-like patterned surface —dramatically lowered both the weight and size of the lens compared with conventional designs of the same focal length and maximum aperture. Canon also claimed that the unique optical construction of the 400mm f4.0 resulted in lower chromatic aberration than models using fluorite elements.
The new model has similar weight and size advantages of the original (albeit with a slight increase), and adopts a new gapless construction between the two DO elements. These elements are also positioned deeper within the optical formula, which Canon claims reduces flare. Although not an L-series model, the new lens boasts a similar level of construction, with aspherical and UD glass, environmental sealing, 4-stop image stabilizer, and both SWC (Sub Wavelength Structure) and fluorine coatings.
Compared to the current 400mm f2.8, this new model is reassuringly compact, measuring just 5.04 x 9.16" (128 x 232.7 mm) and weighing 4.63 lb (2.1 kg). It is available to pre-order at $6,899.
Further readings for the Canon 400mm f/4.0 DO IS II USM lens review: Upgraded model punches above its weight
To provide photographers with a broader perspective about mobiles, lenses and cameras, here are links to articles, reviews, and analyses of photographic equipment produced by DxOMark, renown websites, magazines or blogs.
---
---
Comments
Added by

ano102

| April 09 , 2015

misnomer

this is a misnomer commonly practiced, everyone knows that and can read between the lines ...


Reply
---
Added by

Leo-Jan

| October 21 , 2014

Canon EF 400mm f/4 DO IS II USM on 7D

I really do not understand why you write that the Canon EF 400mm f/4 DO IS II USM on a 7D mark II offers a 640mm focal length. That is an often made mistake. A 640mm focal length is something total different then a (in this case 1.6 x) crop from a 400 mm. And that is all what will happen, a crop. Nothing will come closer to you then on a FullFrame, nothing will change the behavior of the 400 mm focal length. Crop that picture made on a FF and you will get exactly the same picture. Nothing to do with 640 mm focal length.
A 640 mm focal length gives you another image, even more compressed image for example.
When will this wrong way off thinking ever stop, if even an serious site as DxO still feeds this mistake.



Reply
---