Canon EF 16-35mm f/2.8L III lens review
By Paul Carroll -
Friday December 16 2016
Lens Review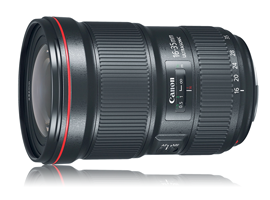 Canon has launched the 3rd iteration of its popular EF 16-35mm f/2.8L wide-angle zoom lens, predominantly for full frame press, sport and action photographers. Significant improvements to outer field sharpness on the new $2199 EF 16-35mm f/2.8L III also make it a viable option for landscape or astrophotography on the 50Mp EOS 5DS R, as well as wedding or event photography on the EOS 5D Mark IV. Although headline specifications are basically the same as its predecessor, improvements to the new lens's durability, including water and dust resistance, equip the new lens better for the hammer of pro shooting in fast-paced, all-weather environments. Despite being specifically intended for use on full frame Canon DSLRs, the new EF 16-35mm f/2.8L III also remains compatible with Canon APS-C sensor cameras, such as the 7D Mark II, where it offers a less wide-angle and less useful 26-52mm equivalent focal range.
Key specifications:
Canon EF lens mount
F/2.8 maximum aperture
82mm filter thread
Ultrasonic AF motor
16 elements in 11 groups
Length 127.5mm
Highlights
Sharpest EF 16-35mm f/2.8L to date
Significantly improved edge sharpness
Wide f/2.8 maximum aperture for fast paced photography
Improved durability with dust and water resistance
Potential Drawbacks
No Image Stabilization
Big and heavy
Expensive compared to f/4 version
Overall image quality
Evaluated on the EOS 5DS R, the new EF 16-35mm f/2.8L III is one of the best performing Canon wide-angle zoom lenses we've tested, achieving an excellent overall DxOMark Score of 34 points. Crucially sharpness has been significantly improved in the outer field compared to its predecessors, which has helped boost its overall sharpness score to 24 P-Mpix, compared to 18 and 17 on the Mark II and Mark I respectively. Distortion and Chromatic Aberration results have improved a little compared to the Mark II as well, although you can still expect some barrelling over 0.5%, as well as a little fringing, using the widest focal lengths between 16-18mm. Vignetting is marginally worse than on its predecessor, with some fairly heavy corner shading using the wider focal lengths and maximum apertures, and the problem is only truly resolved between 24-35mm from f/5.6.
Image Quality compared
vs Canon EF 16-35mm f/2.8L Mark I and Mark II
Head to head against previous iterations the most significant improvement on the new EF 16-35mm f/2.8L III is sharpness. A notably higher overall sharpness score of 24 P-Mpix is predominantly down to significantly better edge sharpness at almost all settings, but specifically at 16mm using all apertures, as well as at the maximum f/2.8 aperture using all focal lengths.
vs Canon 16-35mm f/4L IS
With the $999 EF 16-35mm f/4L IS costing less than half the price of the new EF 16-35mm f/2.8L III, the slower aperture version remains an excellent option if you don't need the speed of an f/2.8 aperture. The EF 16-35mm f/4L achieves a lower overall score of 27 points, with reduced low light performance compared to the new lens, but the f/4 version also features image stabilization (IS) which could be an important feature if you're shooting relatively static stuff, such as landscapes, and want to leave the tripod at home. The two lenses boast very similar levels of resolution, and although the EF 16-35mm f/2.8L III offers slightly sharper results at 16mm f/4, the f/4 version is moderately better between 24-35mm at the same aperture. The f/2.8L version is also slightly sharper in the corners at f/11 and notably better than the f/4L version at f/11 35mm, but the f/4 version still offers very good levels of sharpness if you don't need the f/2.8L version for speed.
vs Nikon 16-35mm f/4G and 17-35mm f/2.8D
If you're after a high quality wide-angle zoom and high resolution DSLR the new EF 16-35mm f/2.8L III on the EOS 5DS R wins against the Nikon equivalents on the 36Mp D800E. Better low light performance ensures a significantly higher overall score of 34 points compared to 25 and 24 for the Nikon 16-35mm f/4G and 17-35mm f/2.8D respectively. The Canon lens also offers notably improved sharpness on EOS 5DS R, with more consistent results at f/2.8 compared to the Nikon 17-35mm f/2.8D on the D800E. The new EF 16-35mm f/2.8L III also displays less chromatic aberration at the wider focal lengths compared to the Nikon 17-35mm f/2.8D.
Conclusion
An important lens for many news, sports and event photographers who need speed and top performance at f/2.8, the improvements to edge sharpness on the new EF 16-35mm f/2.8L III will be appreciated. If it's a lens you're using on a daily basis, the improved resolution together with enhanced durability, including dust and water resistance, are probably enough to justify an upgrade from the ageing Mark I and II iterations. At $2199 it's an expensive proposition though, not to mention big and heavy and, if you can live without its 'fast' f/2.8 maximum aperture, the cheaper, smaller and lighter 16-35mm f/4L version offers very similar image quality and sharpness as well as image stabilization. Cost aside however, the EF 16-35mm f/2.8L III is the best performing version of this lens Canon has produced and delivers excellent results.
Also consider
For further in-depth analysis of some of the main alternatives to the new EF 16-35mm f/2.8L III please see our Canon EF 11-24mm f/4L, Canon EF 16-35mm f/4L IS, Canon EF 17-40mm f/4L, EOS 1D X best lenses and EOS 5DS R best lenses reviews.
Further readings for the Canon EF 16-35mm f/2.8L III lens review
To provide photographers with a broader perspective about mobiles, lenses and cameras, here are links to articles, reviews, and analyses of photographic equipment produced by DxOMark, renown websites, magazines or blogs.
---
---
---
---
---
---
---
---
---
---
Comments
Score

The score is 24 and not 34.
I am anazed that nobody at DXO noticed and corrected.


Reply
---
Added by

ph4vn

| January 10

score 24 or 34?

Main page says score as 34 but inside I see 24. On which came body its score is 34? I checked all canon bodies and find that on 5DSR its score is 24 and all other bodies its cores less than 24.


Reply
---
Identical vignetting for 16-35 f/2.8L III as II version?

Agree with myname. How are these vignetting curves the same?

You disagree with at least four reviewers reporting 4+ stops vignetting at 16mm f/2.8 for the f/2.8L III.

Are you testing at infinity focus, where vignetting would be the worst? Your methods page does not state this, please clarify your method.


Reply
---
Added by

myname

| December 20 , 2016

Vignetting

To be blunt, I don't believe these results.

Check your markIII vs mkII vignetting profiles. No lens is that identical to another.

The MkIII is reported in most reviews as having ~4 stops of vignetting at 16mm & f2.8, yet you're saying it's about half that.


Reply
---