Canon EF 35mm f/1.4L II USM review: New benchmark for open-aperture performance
By Kevin Carter -
Friday October 30 2015
Lens Review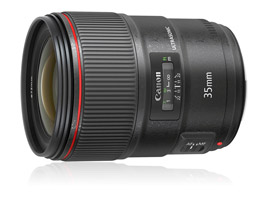 Early in the year Canon updated its high-speed 35mm f/1.4 L series prime, which is the first revamp of this model since the original was introduced in 1998.  Read on to find out how well this new lens performs.
Specifications and Features
Announced towards the end of August this year, the Canon EF 35mm f/1.4L II USM is the long-awaited update to the highly-regarded original model from 1998. Where the earlier model had just the one aspherical surface in its 11-element design (albeit with a highly desirable floating system), this second generation model has two aspheres and adds two UD glass elements. In addition, this lens debuts what Canon is calling Blue Spectrum Refractive (BR) optics. Although Canon remains tight-lipped, the company has stated that BR is a composite of organic material sandwiched between two glass elements. The new tech has been specifically introduced to counter the refractioneffects of the shorter wavelengths of light that result in the blue fringing seen in longitudinal chromatic aberration. 
The new lens has sub-wavelength and fluorine coatings, a rounded iris with 9 blades, and weatherproof construction. And as with previous models, it has a sonic-type AF motor with what Canon calls full-time manual override. It has a minimum focus distance of 11" (28cm) and large a 72mm filter diameter. The lens measures 3.17 x 4.15" (87.6 x 105.5mm) and weighs 1.67 lb (760g). It is available for pre-order at around $1799 (USD).
Further readings for the Canon EF 35mm f/1.4L II USM review: New benchmark for open-aperture performance
To provide photographers with a broader perspective about mobiles, lenses and cameras, here are links to articles, reviews, and analyses of photographic equipment produced by DxOMark, renown websites, magazines or blogs.
---
Comments
Added by

photon

| January 11 , 2016

5Ds is the best for the new 35mm EF lens

Hi DxO, you ought to use 5Ds for benchmark test for lenses, because another canceled-model's color management is confused and noisy easily in photograph.
In experience speaking, 5Ds is the best performer for these EF lenses.
We would like to know results of test score of EF lenses by using 5Ds.


Reply | Read all replies for this comment
First replies for this comment
---
Re: 5Ds is the best for the new 35mm EF lens

only true plebians aren't aware of the 5DS's horrifying moire, noise & algorithm issues


Reply
---
New benchmark for wide open performance!

Looks even better than the Otus lenses at f/1.4 and it auto-focuses! Pricey for sure but if you love the 35mm focal length this looks a treat. This lens will be mine, my own, my preciousssssss :)


Reply
---
Added by

kevinli

| November 02 , 2015

Fault DXOmark lens score?

Why Sigma 35 Art gets best at F1.4 while Canon 35 L II at F2? According to your sharpness measurement profile, the canon is clearly better then the sigma at F1.4.


Reply
---
Misleading sharpness performance

Pay close note to the sharpness measurements. The Canon is sharper than the 35 Art on the wide open end and equivalently sharp from f/4 - f/16. bu the fact that the Canon stops down to f/22 (and the Sigma doesn't!) punishes Canon's average.

On apertures that both lenses offer, the Canon is a sharper lens.


Reply
---
BR Optics

The BR Optics are pretty intriguing to me. Purple fringing is a peeve of mine on my favorite lens wide open in high contrast situations. The numbers in your tests certainly make it look like it has the desired effect. Very cool looking lens if it's a bit on the expensive side for me. Thanks! I look forward to seeing this tested on a 5DSR.


Reply
---