Carl Zeiss Batis 25mm f/2 Sony FE: Optically outstanding
By Paul Carroll -
Thursday February 25 2016
Lens Review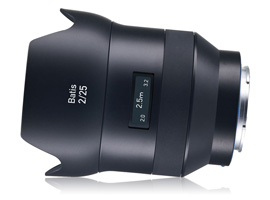 Carl Zeiss's latest range of Batis lenses have been specifically designed for the Sony A7 series of full-frame mirrorless cameras such as the Sony A7R II and Sony A7S II. Together with the legendary optical precision and outstanding build quality for which Carl Zeiss lenses are known, the new Batis lenses also feature autofocus and an innovative OLED display on the lens barrel that gives both focus distance and depth-of-field information. The first lenses released in the Zeiss Batis lineup are the 25mm f/2 wide-angle prime and the 85mm f/1.8 short telephoto prime.
The Zeiss Batis 25mm f/2 features a 9-blade circular aperture diaphragm and an f/2 – f/22 aperture range. Construction is an all-metal casting, which is both dust- and moisture-resistant, and weighing in at 335 grams with a 92mm barrel length, it's a nicely-balanced lens mounted on the Sony A7R.
Optical construction utilizes 10 elements in 8 groups, offers a minimum focus distance of just 20cm, and the front element features a 67mm filter thread which doesn't rotate during focus. The addition of autofocus will widen the the appeal of the Zeiss lens, but for the manual focus enthusiast, the Zeiss Batis 25mm f/2 features a wide and well-weighted focus ring for precise adjustment. The wide-angle 25mm focal length offers an 82-degree field of view that's well-suited for landscape, architecture, and street photography on the Sony A7.
We had the pleasure of running the Carl Zeiss Batis 25m f/2 through our industry-standard tests and are delighted to reveal the verified results.
Key specifications:
Focal length: 25mm
Lens mount: Sony E / FE
Max. aperture: f/2
Min. aperture: f/22
Autofocus: Yes
Minimum focus: 20cm
Field of view: 82 Degrees
Filter thread: 67mm
Weight: 335g
Dimensions: 92x78mm (LxD)
Further readings for the Carl Zeiss Batis 25mm f/2 Sony FE: Optically outstanding
To provide photographers with a broader perspective about mobiles, lenses and cameras, here are links to articles, reviews, and analyses of photographic equipment produced by DxOMark, renown websites, magazines or blogs.
---
---
---
---
---
---
Comments
First replies for this comment
---
Re: Why not use the Sony A7Rii for testing?

I'd be interested to see updated lens tests on the current best of breed from Sony as well, so it would be great to get a response to this question.


Reply
---
Added by

Narek

| February 26 , 2016

Good

Finally. Nice job!

Now, Review the Batis 85/1.8 and the Otus 28/1.4

Cheers


Reply
---
something seems to be wrong

The sharpness rating does not seem to jive with the sharpness profiles. That measurement seems to be much closer on a percent basis. And if the Batis is lower in so many key areas, and virtually equal in others, how could be rated higher than the other two?



Reply
---
Added by

Yairt

| February 25 , 2016

What am I missing?

How come the Batis gets a higher grade than the distagon ???

DXO team , please explain.

BTW

The Nikon 24 /1.8 is the best 24 in your database :)

Thanks
Yair


Reply
---
Carl Zeiss Batis 25mm f/2 Sony FE: Optically outstanding

Curious why the Sony FE 28mm F2 and 35 2.8 are not in the table; they should be in the first half ?
Thank you anyway.


Reply
---
Hrm? 22MP on a 36 MP sensor is 'outstanding'?

This a comment for <a href="http://www.dxomark.com/index.php/Lenses/Carl-Zeiss/Zeiss-Carl-Zeiss-Batis-25mm-F2-Sony-FE">this page on the website</a>
[b]
The Batis 25mm lens only realizes 22 P-Mpix of the 36 MP on the A7R sensor [i]**and you call it optically outstanding**?![/i][/b]

You have a great deal of wide angle prime testing on other 36 MP FF sensors that absolutely mops the floor with this lens from a sharpness perspective. There are WA prime lenses you tested nearly five years ago that *handily* outresolve this lens on a 36 MP sensor.

How DXO chooses to issue its superlatives (and compute its overall Lens score) continues to befuddle me.


Reply | Read all replies for this comment
First replies for this comment
---
Re: Hrm? 22MP on a 36 MP sensor is 'outstanding'?

This post befuddles me. What other 36MP cameras are you talking about? Pentax.. Nikon? Oh yeah, Sony makes it for them too


Reply
---
Testing

Any idea when the Zeiss batis 25mm f2 will be reviewed?


Reply
---