Carl Zeiss Batis 85mm f/1.8 Sony FE: Creative contender
By Paul Carroll -
Friday May 20 2016
Lens Review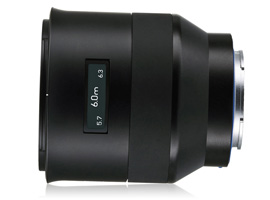 Carl Zeiss's latest range of Batis lenses has been specifically designed for the Sony A7 series of full-frame mirrorless cameras such as the Sony A7R II and Sony A7S II. Together with the legendary optical precision and outstanding build quality for which Carl Zeiss lenses are known, the new Batis lenses also feature autofocus and an innovative OLED display on the lens barrel that gives both focus distance and depth-of-field information. The first new lenses released in the Zeiss Batis lineup are the 25mm f/2 wide-angle prime and 85mm f/1.8 short telephoto prime.
The Zeiss Batis 85mm f/1.8 offers a short telephoto focal length and a fast aperture that's ideal for portraits, events, weddings or studio fashion photography work. Construction is a durable and weather-resistant all-metal casting, and at 105mm long and weighing 475 grams, it's a fairly chunky lens for the Sony A7 series. Optical construction utilizes 11 elements in 8 groups, including 3 low-dispersion elements, and the 9-bladed circular aperture diaphragm promises attractive out-of-focus bokeh effects.
An addition to autofocus, the feature set of the Zeiss Batis 85mm f/1.8 has been further bolstered with built-in image stabilization. The Zeiss lens-based system works in combination with the camera-based stabilizer on the A7 II series, which offers up to two stops of anti-shake on original A7 bodies without stabilization. On paper that's not as impressive as the latest Nikon/Canon stabilization systems, which now offer up to four stops, but in reality, a two-stop system allows for shutter speeds as slow as 1/30 sec. on an 85mm lens, which is useful when shooting weddings or events in low-light conditions.
The large manual focus ring offers precise adjustment and the Zeiss Batis 85mm f/1.8 offers a minimum focus distance of 80mm. While that's comparable to the minimum focus distance on many competitors' fast-aperture 85mm primes, it means the Zeiss Batis isn't well-suited for close focus photography, such as pack and product shots, with macro lenses such as the Sony FE 90mm f/2.8 a better option.
Like the Batis 25mm f/2, the 85mm f/1.8 version offers Zeiss's innovative OLED display on the lens barrel for reading focus distance and depth-of-field information. The front element uses a 67mm thread for filters, and the 85mm focal length provides a 29-degree field of view. Our technicians have been busy analyzing the Zeiss Batis 85mm f/1.8's lab results, and we're pleased to reveal the verified scores.
Key specifications:
Focal length: 85mm
Lens mount: Sony E / FE
Max. aperture: f/1.8
Min. aperture: f/22
Autofocus: Yes
Stabilizer: Yes – 2 stops on A7 series
Minimum focus: 80cm
Field of view: 29 Degrees
Filter thread: 67mm
Weight: 475g
Dimensions: 105x75mm (LxD)
Further readings for the Carl Zeiss Batis 85mm f/1.8 Sony FE: Creative contender
To provide photographers with a broader perspective about mobiles, lenses and cameras, here are links to articles, reviews, and analyses of photographic equipment produced by DxOMark, renown websites, magazines or blogs.
---
---
---
---
---
Comments
Phenomenal lens and design.

The lens is a beauty. And as always good lenses cost around 1000$.
I have it on my list. Below f/1.8 is hard to find an affordable, small and sharp e-mount lens with autofocus and stabilization.
Manual Zeiss Loxia is equally sharp but usb overshadowed by this lens extra features .
Bokeh is necessary. This lens offers it easily. Not a travel lens, neither a telephoto lens. It could be a travel lens as long as someone sacrifices the wide view for bokeh. Extreme sharpness isn't realized in Facebook and instagram. However bokeh is obvious and make the difference between a casual photographer with a premium compact camera and a serious photographer.
Lenses are an investment and great lenses as zeiss rarely are loosing their value.
So its price isn't a negative aspect. Canon 85 f/1.2 and Canon 85 f/1.8 are inferior in sharpness and autofocus speed.
I can't understant how an OLED display can be really helpful. To much pressision is needed in macro photography. And that isn't a macro lens. Additionally the 80mm minimum autofocus is a problem if want to shoot food or something a little close.
Above all I like the lens design.


Reply
---
Wrong camera

All these lenses should be tested with A7RII as that camera has electronic first shutter curtain, which eliminates shutter induced vibrations. A7R is a wrong camera for lens testing.


Reply
---
A7R II lens testing?

"Carl Zeiss's latest range of Batis lenses has been specifically designed for the Sony A7 series of full-frame mirrorless cameras such as the Sony A7R II and Sony A7S II"

And yet you only tested it on an A7R. The A7R II is some 10 months old -- heck, you presented your own testing on it 9 months ago -- and you have tested precisely zero lenses on it.

At this rate, an A7R III will hit the market before you tell us how Sony glass fares on that 42 MP sensor!


Reply
---
You guys need to do more tests with a7rii

It's all the hype, I need more a7rii full frame lens reviews... It is bothering me because I want to buy a native lens, but there are already so many good Canon lenses that I could purchase for a fraction of the cost, and have better image quality when adapted.


Reply
---
Added by

Narek

| November 30 , 2015

When can we expect to see the results of the test on the Zeiss Batis Lenses

Guys,

How long must we wait to see the results of testing the Batis lenes with the 7R and 7R II?

Can you give us any updates?

Appreciate it.


Reply
---
vs

I can't wait to see how the scores of the 85mm Batis compares against the Sony 90mm macro!


Reply
---