Tamron SP 45mm f/1.8 Di VC USD Review: Tasty prime for Nikon FX
By Paul Carroll -
Monday December 21 2015
Lens Review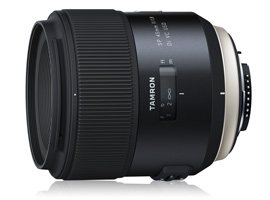 Announced in September 2015, the $599 Tamron SP 45mm f/1.8 Di VC USD (Tamron SP 45mm f/1.8) is a standard focal length prime lens for Nikon, Canon, and Sony full-frame cameras. Offering a fixed focal length with a field of view similar to human vision (excluding peripheral vision) and a large maximum aperture, the Tamron SP 45mm f/1.8 is a good option for a range of uses, including street photography, portraits, low-light and all-round general shooting.
The Tamron SP 45mm f/1.8 features Tamron's Vibration Compensation (VC) system that offers up to 3.5 stops of image stabilization — enabling, in theory, sharp shots of relatively static subjects using shutter speeds as slow as ¼ second. Note that VC is only available in the Nikon and Canon versions of this lens, as it's not needed in the Sony version (as Sony cameras offer camera-based image stabilization).
Other features include Tamron's USD autofocus motor for quick and quiet AF, as well as a minimum focus distance of just 29cm, with a maximum magnification of 1:3.4 at this setting. There's also a focus distance window on the lens barrel, a minimum aperture of f/16, and 67mm filter thread. The Tamron SP 45mm f/1.8 weighs in at 540g.
Optical construction utilizes 10 elements in 8 groups, including a low-dispersion element and two aspherical elements for enhanced image quality. We've put the Nikon version of this lens through the rigors of a DxOMark Lab test, so let's see how it shapes up.
Further readings for the Tamron SP 45mm f/1.8 Di VC USD Review: Tasty prime for Nikon FX
To provide photographers with a broader perspective about mobiles, lenses and cameras, here are links to articles, reviews, and analyses of photographic equipment produced by DxOMark, renown websites, magazines or blogs.
---
---
---
Comments
D810

Knowing D810 and D800E have no AA filter, why do you keep taking those two cameras into account for lens measurements?
Having no AA filter does not show how good that lens is. Except D800E and D810 what other Nikon cameras have no AA filter and can "enjoy" that level of sharpness? None,this is why i take into account the measurements made on D800.
On D800 this lens scored 19mpx from 36 and for my standard that is low, Nikon 50mm f/1.4G scored 16mpx (this is lower than 50% of camera's sensor!) while Sigma 35mm and 50mm f/1.4 A lens scored between 23mpx and 28mpx!!! as much as Zeiss 135mm f/2 APO Sonnar!! and that is a lot!
I had all these lenses (except Tamron) and the visual difference between 16mpx-19mpx is not that big while from 19mpx to 23/28 is too big and can see it without "pixel peeping".


Reply
---
Added by

Toshik

| December 24 , 2015

strange things

Why you measure lens performance on D800E (and not D810), but screenshots of sharpeness and vignetting are from D810 which is clearly stated.

Isnt it quite strange?


Reply | Read all replies for this comment
First replies for this comment
---
Re: strange things

Hi Toshik,
We couldn't find where you're saying we refer to the D810 instead of the D800E here. Thanks for clarifying.


Reply
---
Added by

moses b

| December 21 , 2015

45mm is better

Thanks for the review. I'm glad lens manufacturers are going for the 45mm focal length, rather than the 50mm. Most full-frame sensors have a diagonal of about 43.2mm, which translates into 43.2mm being the closer-to-'normal' focal length.
BTW: could we please have some lens results for the Sony a7rii up soon? i'm itching (as are many others) to know how this champ pairs with some lenses.


Reply | Read all replies for this comment
First replies for this comment
---
Re: 45mm is better

Hi moses b,
Sorry for the very late reply on this. For your information, we are currently working on the Sony A7R II lens recommendations, but I unfortunately cannot provide you with any precise publication date at the moment. Thanks again for your patience!


Reply
---