Voigtlander Ultron 40mm f2 SL II Aspherical Review: Latest scores for alternative 3rd party standard prime for Nikon & Canon
By Paul Carroll -
Thursday July 09 2015
Lens Review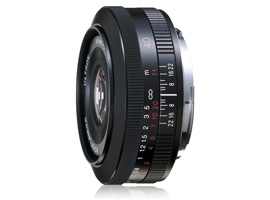 The $499 Ultron 40mm f2 SL II Aspherical is a standard focal length prime from legendary Viennese manufacturer Voigtlander. Despite its tiny proportions it promises to deliver excellent image quality scores in our industry standard lab tests. With the lab data in, recorded and verified our in-depth review analyses the results.
Voigtlander Ultron 40mm f2 SL II Aspherical Introduction: Apetite manual focus prime with a versatile focal length
The Voigtlander Ultron 40mm f/2 SL II Aspherical (Voigtlander 40mm f2) is a manual focus, 'standard' focal length prime lens available in Nikon and Canon mounts. Compatible with virtually all Nikon/Canon DSLRs and film SLRs, 40mm on full frame bodies offers a great focal length for a range of subjects including candid and street photography. On smaller crop sensors, the focal length extension to around 60mm makes it a little less versatile, but good for portraiture, particularly utilising the fast f/2 aperture. Despite being a manual focus lens, electronic coupling to DSLRs means metering, exposure and ISO data is passed to the camera, making the Voigtlander 40mm f/2 a very usable lens for DSLR photographers. The Voigtlander 40mm f/2 build quality and size are its big attractions as it feels like it'll last a lifetime and at just 24.5mm in length and weighing 200g it's very petite. Compare that to Sigma's 35mm f/1.4 prime for example which, at 94mm in length and 665g in weight, is almost 4 times longer and over 3 times heavier. The Voitglander 40mm f/2 comes supplied with close-up lens adapter to reduce the minimum focus distance to 25cm and a magnification ratio of 1:4. The supplied lens hood also doubles as a 52-39mm step down filter adapter. 
Further readings for the Voigtlander Ultron 40mm f2 SL II Aspherical Review: Latest scores for alternative 3rd party standard prime for Nikon & Canon
To provide photographers with a broader perspective about mobiles, lenses and cameras, here are links to articles, reviews, and analyses of photographic equipment produced by DxOMark, renown websites, magazines or blogs.
---
---
Comments
Added by

Thiras

| November 19 , 2014

Voigtlander Ultron 40mm F2 SL II Aspherical Nikon

Can you suggest where else we can get test results for this lens?


Reply
---
Added by

chert

| June 14 , 2014

Voigtlander tests this year?

Sophie, pls start with the Ultron 40mm f2 SL II. I'd like to see what you guys think to compare it with the Nikon 35mm f1.8g you just tested. Mf doesn't bother me and it's size is compelling...


Reply | Read all replies for this comment
First replies for this comment
---
Re: Voigtlander tests this year?

Hi,
Thanks for this suggestion. Unfortunately, this lens is not planned for testing in the short run.

Sincerely


Reply
---
Added by

Sixpm

| February 17 , 2014

Why there are no Voigtlander lenses included in the DXOmark chart?

Can DXO team please add these lenses to your test listing as I'm sure these lenses will probably be as good as some of the best in the business.


Reply | Read all replies for this comment
First replies for this comment
---
Re: Why there are no Voigtlander lenses included in the DXOmark chart?

Hi,

Thanks for your proposition: it is indeed a very good suggestion. Voigtlander propose a very interesting lens line up and we would be definitely interested in measuring their perfomance. We won't be able to make time for getting hands on samples and run tests in the short term, but this is definitely something we will try to do this year.


Reply
---
Re: Why there are no Voigtlander lenses included in the DXOmark chart?

Sophie,

A reminder about doing some Voigtlander reviews. 7,699 (from memory) lenses tested but not a single Voigtlander.
BTW, my interest is in the m4/3 42.5mm F0.95

I know you can do it ;D

Cheers,
Tony


Reply
---